10 Minutes a Month is All it Takes to Understand Your Cash Flow
Understanding and managing your cash flow used to be a time-consuming, complicated, and frustrating task. Not anymore! My brand new online course makes understanding your cash flow SIMPLE and FAST!
Are you:
Tired of being confused about your cash flow?
Frustrated because you're showing a profit but you have less cash as a result?
Struggling to understand what happened to your cash last month?
Scared because you don't know what's about to happen to your cash (and cash flow)?
Or are you ready to grow your business and you want to put a smart cash flow foundation in place to ensure success?
Cash flow is an interesting animal. Sometimes it wakes you up in the middle of the night in a cold sweat. Your mind is bouncing all over the place worried about how to deal with a cash flow challenge.
Sometimes you worry because you don't feel like you really know what's going on with your cash flow. Other times you are on cloud nine watching the cash come in faster than it is going out.
The Problem (and the Solution)
Starts Right Here
This same thing is happening in your business every single month. Pick any month you want and you will see the same thing is true.
So the question to ask yourself is:
Would it be wise to understand what happened to your cash?
Would it be a smart business practice to be able to explain what happened to your cash each month?
This business had a profit of $20,730 for the month but their cash balance went down by ($4,462). The question is why.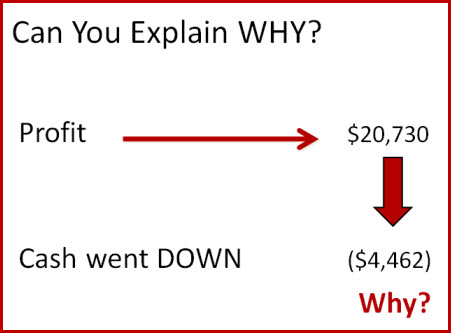 Another business had a loss for the month of ($12,306) but cash actually went up during the month by $25,053. The question is why.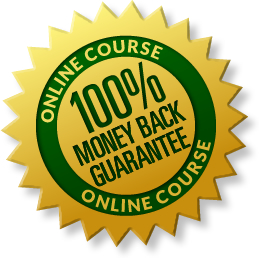 You love the course and it delivers on my 10 minute promise or This course comes with a RISK FREE, no-questions asked, money back guarantee.
If for any reason, or at any time, you decide this information isn't right for you, I'll refund 100% of your purchase price.
All the risk is on me! I deliver on my promise or you get your money back - 100% guaranteed.
I'm that confident in the power of this course to simplify your life and eliminate your cash flow worries. You love it... or I eat the cost.
Cash Flow Made Simple (and FAST)
There are two things very unique and exciting about my brand new online course.
I'll show you how to understand your cash flow in less than 10 minutes, and
I'll show you how to explain what happened to your cash last month to your business partner or banker (or maybe even your spouse) in a 2-minute conversation.
I have used my 28 years of helping business owners take control of their business to create a simple, 10-minute approach to understanding your cash flow.

Can you answer these 2 questions?
What happened to the cash last month?
What's about to happen to the cash?
Two simple questions. But I know that 8 out of 10 of you can't answer either one (and it should only take a 2-minute conversation to do it).
One reason is you don't have cash flow projections.
Which means you are basically flying blind and just hoping that the business will figure out how to grow. It's like driving down the freeway at 70 miles per hour and only using your rear view mirror as your guide. You need a good, clear view through the windshield to make sure you get where you are going safely. That is what cash flow projections do for you.

The 10 Cash Flow Rules
Never Run Out of CASH
CASH Is King
Know the CASH Balance Right Now
Do Today's Work Today
Either You Do the Work or Have Someone Else Do It
Don't Manage From the Bank Balance
Know What You Expect the CASH Balance to be Six Months From Now
CASH Flow Problems Can Be Seen In Advance
You Absolutely, Positively Must Have CASH Flow Projections
Eliminate Your CASH Flow Worries So You Are Free to Do What You Do Best - Grow Your Business and Make More Money