Look what business owners just like you are saying about this exciting new eBook:
---
"Philip, I owe you a great deal, because I now know how to permanently avoid that "how did I get here, again?" experience of not having enough cash to continue.
Thank you, thank you, thank you!"
-Anisa Aven, Owner
Creatavision Enterprises
---
"I highly recommend that you follow Philip's step-by-step process. It was so easy to do. It made all the difference for me. Now I'm finally back to having fun growing my business."
-Ricky Hux, Owner
Best Fit Solutions LLC
---
"This book is GREAT!
Without a degree in accounting, I needed something like Philip's Peace of Mind schedule to keep me focused on the most important aspect of my business - CASH.
It's easy to understand and apply - just what I needed!!"
-Sylvia Barnes, Owner
Leap of Faith Enterprises
---
"Cash Flow Rules # 7 and # 9 are absolutely critical for all business owners and financial managers to live by in order to prosper in business and be able to sleep at night.
Now I'm completely in the drivers seat. My business is so much easier to manage now."
- David Segers, Chief Financial Officer
William Cole Enterprises
Never Run Out of Cash
The 10 Cash Flow Rules
You Can't Afford to Ignore

by Philip Campbell

Table of Contents
About the Author
Send Me Your Questions
Introduction
Part One: It's All About The CASH
1. Is Your Cash Flow Under Control?
2. How You Benefit From Getting Your Cash Flow Under Control
3. The 10 Cash Flow Rules
4. Cash Is King
Part Two: Know The CASH Balance
5. What is the Cash Balance Right Now?
6. Don't Manage From the Bank Balance
Part Three: You Absolutely, Positively Must
Have Cash Flow Projections
7. What Do You Expect the Cash Balance to be Six Months From Now?
8. Cash Flow Problems Don't "Just Happen"
9. The Peace of Mind Schedule is Born
10. The Peace of Mind Schedule Will Free You
11. Putting the Peace of Mind Schedule to Work
12. Cash Flow Projections the Right Way
13. Creating Peace of Mind Each Month
Part Four: Your Decision to Use a Proven
Solution
14. The Most Common Cash Flow "Yes, Buts…"
15. Taking Control of Your Cash Flow
Help Is Available
Resources to Help You
Become a Hero to Your Customers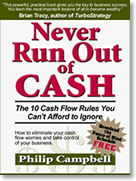 INSTANT ACCESS!

ONLY $16.95
Purchase Online
With Your Credit Card Through a
Secure Server
A Money Back Guarantee That Eliminates Your Risk.
Guarantee:
Never Run Out of Cash comes with a RISK FREE, no-questions asked, 90 day money back guarantee. If for any reason, or at any time within 90 days of purchase, you decide this information isn't right for you, I'll refund 100% of your purchase price.
All the risk is on me!
Never Run Out of Cash delivers value to you or you get your money back - 100% guaranteed.

I'm that confident it will transform the way you manage your business.
Get it NOW.
All the risk is on me!